Value Proposition
Our professionals and strategic affiliates have decades of combined experience providing corporate finance and financial management support to dynamic organizations.
Our value to your organization can be measured by cost flexibility, reduced financial risk and improved business performance. We are proud to present our distinct "V-RISK" capabilities matrix.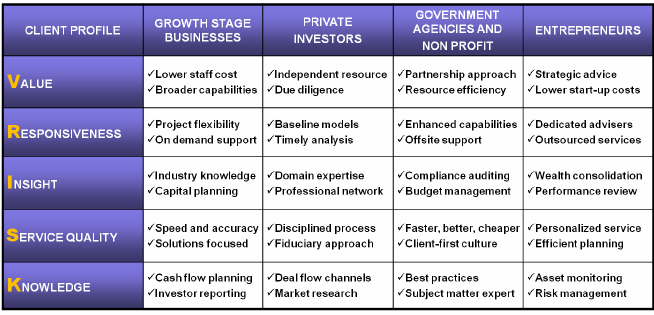 While there are many factors that distinguish Aperture Financial from other niche-market advisory firms, our three pillars of intrinsic value truly stand out:
Strong Financial Experience and Management Knowledge: Deep experience and focused knowledge allow us to assemble, under one roof, the key elements of day-to-day accounting, corporate finance, business management, entrepreneurship and private equity.
Responsive Financial and Technical Network: We enjoy extensive relationships with world class strategic partners, professional societies, investors and research institutes.
Integrity, Commitment and Vision: Inspired to implement industry best practices and provide value-added services to every client. Our mix of experience allows us to propose innovative solutions to the complex issues facing our clients.